The eastern end of Santa Cruz Island provides an ideal location for a field trip to study the geology and geomorphology of the Northern Channel Islands. Access to the island is easy, there is a nice campground to set up a base camp, the island's geology is accessible, easy to understand and well-exposed, and the sea kayaking adds an additional perspective on coastal geomorphology that cannot be matched by walking around. It is also a perfectly beautiful, even exotic setting to conduct fieldwork. This FLog covers the logistics for running a trip similar to the Fall 2010 Geology 230 trip that formed the foundation for the class papers.
Getting There: Unless you have wealthy friends with their own boat, transport to Santa Cruz Island with a group involves taking one of the fast catamarans run by Island Packers out of Ventura Harbor (www.islandpackers.com). The boats will take all of your camping gear and kayaks. Based on our experience, some points to remember: 1) they have a weight limit on each item of 45 lbs. There is no limit on the number of items, just the weight of each one. We found them be very crabby about this on one of our legs (we had a cranky captain). 2) You have to reserve your trip early if it is high season (summer), and be sure to reserve a space for each kayak. They will also give you instructions about bowlines for the kayaks. 3) They are very punctual, so when they say be there an hour early, be there. Don't let the inebriates from the night before mess up your departure. There are no convenient campgrounds close to the Ventura marina, so we stacked in like cordwood at the local Bedbug Hotel.
Staying There: The boat will drop you off at the pier at Scorpion Cove on the very eastern end of Santa Cruz Island (Figure 1a). This is the offshore headquarters for the Channel Islands National Park (www.channel.islands.national-park.com) and is a well-developed, busy facility. There is only one campground at Scorpion Cove. You will need to reserve camping on-line (www.reserveamerica.com). If you are a group of more than six, you want to reserve all even or all odd sites in sequence (i.e., 3&5 or 4&6) for proximity. Based on our experience it pays to reserve early (three months or more), since this is a very popular campground. The campground is less than half a mile from the pier, which is an easy walk with gear. You will leave your kayaks on the beach. The campsite is nice, with picnic tables, food storage lockers, pit toilets, plenty of level space for tents, and potable water (Figure 1b).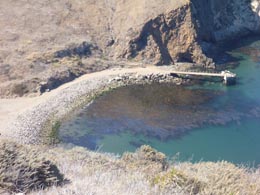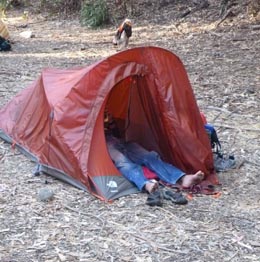 A warning about camping there. First, nights are cool and the days alternate between foggy and cool and cool and windy. Second, the endemic Santa Cruz Island Fox has, thanks to the Park Service and the Nature Conservancy, recovered nicely. So nicely, it is now a pest (Figure 2a) and will raid your camp. But nothing beats the ravens (Figure 2b). These clever birds have figured out how to unzip your packs and pull anything and everything out in the quest for food. They seem to be particularly fond of playingcards and women's underwear.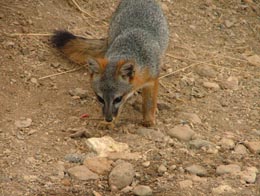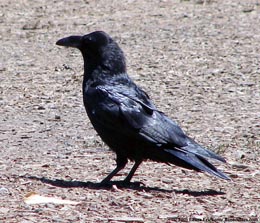 What to See and Getting Around: It's all boots and boats on this island. The papers on this website detail the great geology and geomorphology. There is a prominent north-south oriented range west of Scorpion Cove that goes by different names (High Mount being one of them). Trails west out of Scorpion Cove campground take you to a trail that allows you to summit this range, producing a spectacular view of the island and neighboring Anacapa Island (Figure 3a). On the way, you will see the faulted Santa Cruz Island Volcanics and the Monterey Formation, along with an abandoned oil well (Figure 3b). This can be done in an afternoon. Two short hikes include heading to the northeast tip of the island (45 minute walk) to examine the Potato Harbor Formation (lots of archaeology sites in the area), or heading south to Smugglers Cove with a nice walk across the 400 ka terrace. An all-day hike is to head far out to the west to the narrow point of the island between Chinese Harbor and Prisoner's Cove. The best exposures of the rock units occur along this hike, along with the island's best examples of mass movements and erosion due to grazing.
Kayaking is an outstanding way to see the geology. We recommend using enclosed sea kayaks since they go faster, handle better and are warmer in the potentially cold conditions (Figure 4a, b). These can be rented many places, including Outdoor Adventures UC Davis. You can rent sit-on-top kayaks from Island Packers, or you can hook up with one of several outfitters who run trips on the island (they provide wetsuits and helmets: mandatory for paddling the cold waters and deep caves of the island). Be sure to watch the tides because they dictate when you can get into the good caves.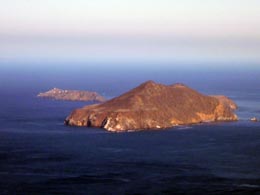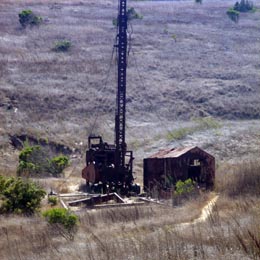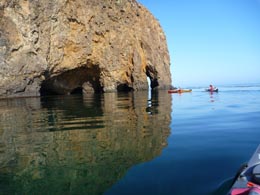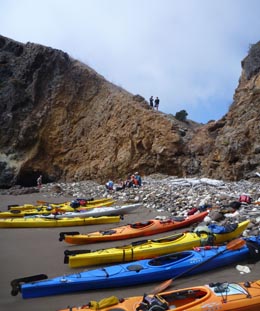 There are two logical paddling day trips from Scorpion Cove. The first is to head north and then west to Chinese Harbor. This will take you through some of the best sea caves in the area along with excellent views of the contact relationships between the Santa Cruz Island Volcanics, the Monterey Formation, and the Potato Harbor Formation. Potato Harbor itself is worth a visit on your way (Figure 5a). It has a good exposure of the unconformity between the Santa Cruz Island Volcanics and the Monterey Formation, has a canyon on the west side full of exotic endemic plants (Figure 5b), and even some oil-rich glauconitic sands at the base of the Monterey Formation. At Chinese Harbor you will see some of the largest landslides of the island. This trip is all day, with a chance of being blown back to Scorpion Cove in the afternoon by high NW winds and waves. This is not for weak paddlers. The alternative, shorter paddle is to head south and then west to Smugglers Cove. The sea cliffs are not as dramatic, but they are equally beautiful. The downside of this paddle is that you may have to fight the wind on the way back. And if the weather becomes too intense for paddling you can ditch the kayaks in one of the coves and walk back to camp.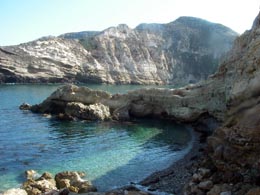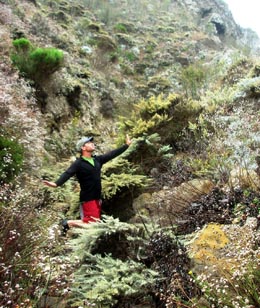 Finally, it is worth snorkeling around the island. Visibilities are excellent in the kelp beds and the sea life is abundant. But it is cold and you will need a wetsuit to remain in the water a long time.
When to Go: We went in late September. Usually, late summer and early fall is the best weather on the island, because fog is less and water temperatures are warmer, but it can be nice there from the spring through the fall. In reality, there is no bad weather, just bad gear. Our trip was a total of five days on the island. We took an early boat out of Ventura, allowing us time to set up camp and go for an afternoon hike. On the last day we caught an afternoon boat back to Ventura, allowing us time to do a morning paddle. It was the consensus of the group that we could have done the trip in four days and seen enough. However, we were pinned down by wind on at least one of the days there and forced to hike instead of paddling. This can happen anytime, so flexibility in itinerary is necessary.